After our workday on May 3rd, an impromptu meeting of the minds (Barbara, Laura, Tom, Dang, Yoshi and myself) was held to discuss the ongoing care and maintenance of the six main flowerbeds along the stairways.
Ideally, a volunteer would adopt one bed and oversee it once a week by weeding, watering when necessary, and removing any litter. The volunteer would also be responsible for spot-checking the entire Cascade for any graffiti or broken water pipes and reporting back to Barbara, Dang or me.
So far, these beds have been spoken for: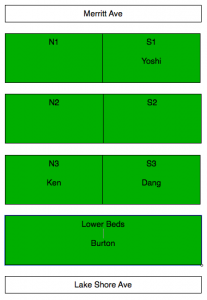 Dang graciously accepted the task of watering all of the beds, which should be adequate unless another heat wave strikes (which is likely this week).
While checking on your bed, test the soil by placing your green thumb into the dirt. If it is damp, then no watering is necessary. If the soil crumbles, then it probably needs a drink.
If you are interested in adopting a bed and giving it some personal TLC, please let Barbara or me know. As always, everyone's efforts are very much appreciated.
Here's to a lovely week ahead!