[ from the Oakland Tribune, Sept. 12, 1972. ]
Howard Ellsworth Gilkey, a prominent Oakland landscape architect for more than half a century and designer of 23 California Spring Garden Shows, died here Saturday. He was 82.
Mr. Gilkey, born in Illinois, grew up in Santa Rosa and was a student of Luther Burbank. He was graduated from the University of California in 1916 having worked with the designers of the Panama Pacific Exposition in 1914. He also helped design the Golden Gate International Exposition on Treasure Island in 1939.
He served briefly as landscape architect for the city of Oakland in 1921 and worked on many city projects thereafter. His imprint is seen throughout the Eastbay, from the original duck pond at Lake Merritt to Woodminster Amphitheater and the arboretum in Knowland State Park.
But Mr. Gilkey was best known for his work with the Garden Show, staging the first one and establishing a tradition of spectacular redwood trees and waterfalls known throughout the west.
He was the first western landscape designer named a member of the American Society of Landscape Architects, and his many honors included being named "Man of the Year" for 1963 by the Oakland Eastbay Garden Center, an association of 55 Garden Clubs.
In 1965 he realized a 30 year ambition with the completion of his epic poem, "The Great Design," illustrated with his own drawings.
Mr. Gilkey is survived by his wife, Ruth Ann, whom he met at the Printing Union Retirement Center, where he lived for the past two years. They were married in December of 1970.
Private memorial services will be held Saturday at the Grant Miller Mortuary, 2850 Telegraph Ave. Memorial contributions may be sent to the Businessmen's Garden Club of Oakland, Lakeside Inn, Lakeside Park.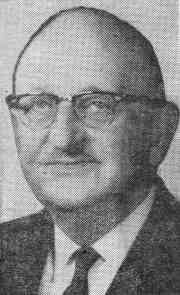 Howard E. Gilkey: A distinguised career
(above photo and caption as they appeared in this 1972 article)